Skip to Main Content
It looks like you're using Internet Explorer 11 or older. This website works best with modern browsers such as the latest versions of Chrome, Firefox, Safari, and Edge. If you continue with this browser, you may see unexpected results.
MLA Style Resources
MLA Style Center website: The MLA style center has examples of MLA citation including in-text citations, works cited, research paper formatting, and practice templates. You can also ask any questions not found in the MLA guide directly to the editors of the MLA handboook or search through previously asked questions.
Excelsior Online Writing Lab (OWL): Purdue University has created a popular guide for various citation formats, including MLA. Here you'll find MLA citation examples as well information about plagiarism, writing, and grammar.
*Citation generators should be used with caution as they generally will need editing, therefore, it's better to create the citations yourself. If you need to use a generator, make sure it is the latest edition of MLA and you review for accuracy.
What new in the 9th edition? Find out here.
Why Should I Cite My Sources?
Honesty: It's important to cite all of your sources to be transparent about where you got your information. We always need to be honest about using someone else's ideas and words to avoid plagiarism. In research we have a moral and legal obligation to give credit to authors for their hard work.

We also need to let readers know what earlier research or work inspired out own work, so it's crucial to reference how someone else's idea was an inspiration for you to go on and create your own ideas and you're own thinking.

Credibility: It's also important to cite your sources so your reader knows they can trust your information. We can't expect readers to take our word for it; they want to know that what we're writing is factual.

Extended research:

Some readers will use sources that an author lists to go on and do their own research, so it's important to cite them so they can find the information.
Formatting Your Paper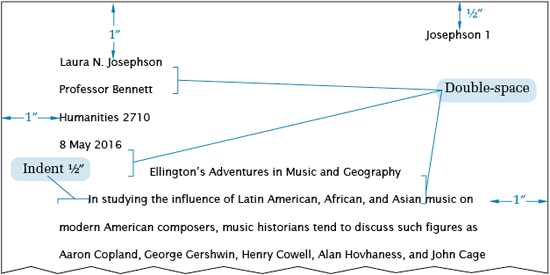 ("Formatting")
Heading – Name, course title, course number, date

Margins – 1" for main text, additional

½" for paragraph indents

Font – Easy to read and standard size (ex. Times New Roman, 12 pt.)

Spacing – Double spaced

Header - Last name & page number

---

"Formatting a Research Paper." The MLA Style Center, Modern Language Association of America, 2021, style.mla.org/formatting-papers/.
Plagiarism & Academic Dishonesty
What is plagiarism?
Merriam-Webster's Collegiate Dictionary defines plagiarizing as committing "literary theft." Plagiarism is presenting another person's ideas, information, expressions, or entire work as one's own. It is thus a kind of fraud: deceiving others to gain something of value. While plagiarism only sometimes has legal repercussions (e.g., when it involves copyright infringement—violating an author's exclusive legal right to publication), it is always a serious moral and ethical offense. (MLA Handbook, ch. 1)
---
MLA Handbook. 8th ed., e-book, The Modern Language Association of America, 2016.
View MLA's guidelines on plagiarism here and in Spanish here.
How to Avoid Plagiarism:
Below is a video from Excelsior Online Writing Lab on how to avoid plagiarism.
University of Arizona Writing Center: